Happy Friday lovebugs!!

As you all know by now, I like to keep things very classy and serious here at Casa de Alex *snort*, so when I came across a post on Splitcoast about "snarky" Christmas cards, someone mentioned this fun line of digi stamps, which I got from Bugaboo Stamps.
Behold Santa Called Stella:
Can you stand it?? How fun is she?? I do know that Totally Stampalicious carries these little cuties as actual stamps but of course, I wasn't going to wait one more second without getting to use her, so I went for the digi stamp instead - in about 30 seconds she was all mine! And well, considering MANY of you are going to be receiving these from me
I figured I better get a head start!
For my card I used one of Jen's fabulous SFYTT from a couple of weeks ago, and the patterned paper is from the Peppermint Twist Collection from K & Co., as for Stella, she is colored using Copic Markers, and I added a little Butterscotch Liquid Pearls to my sentiment panel as well as the "ornament" that I made using some of the patterned paper.  I added a little Baker's Twine to the ornament and finished it all up by doing a little sponging with my trusty Vintage Photo Distress Ink.
I hope you got a little giggle from this image, 'cause it totally made my week! 
Thanks for stopping by today!!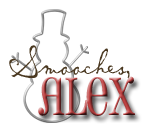 P.S.  Did you guys notice my snazzy new blog look??  Since I've been having to loaf around sooo much because of these little runts, I have been playing with the fabulous digi-scrapping goodies from SweetShoppe Designs, and I made my blog header and goodies using this stunning kit from Traci Reed and Meghan Mullens,  Isn't it cuute?? I'm SO ready for the holiday season y'all!!